Union, NJ Baseboard Heater Installation
Electric Baseboard Heaters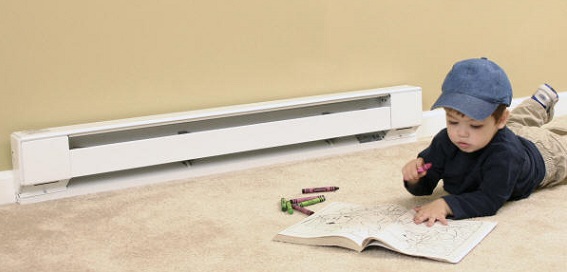 When it comes to versatility and reliability for year-around home comfort, you can always count on electric baseboard heating. You can spread warmth throughout your entire home or concentrate it in one part of the house or in just one room. At First Class Electric we recommend it as an excellent heating choice throughout the changing seasons in Central New Jersey, especially where natural gas in not an option.
When electric baseboard heaters are installed in homes and businesses by First Class Electric's certified electricians, we want you to know that our work is 100 percent guaranteed.
Why Choose Baseboard Heaters?
If you are going to rely on electricity as your source of home heating, we definitely recommend electric baseboard heating. EPA's Energy Star Program reports that up to half of the energy consumed in a typical American home is for heating and cooling. It is also a fact that electric baseboard heaters are 100 percent efficient. All of the energy consumed by these heaters goes to produce heat.
However, heating with gas is generally less expensive than heating with electricity. Natural gas, in some cases, is not available to thousands of homes and businesses in Central New Jersey, and installing a gas-powered system would not be possible.
Electrical baseboard heaters are almost always your best alternative to natural gas.
Electric baseboard heaters are self-contained.. They are safe and comparatively causing less damage to install in existing homes than other heating systems. That is plus for our certified electricians at First  Class Electric, meaning installation will be less disruptive to homes and businesses who choose this heating option.
But it doesn't stop there, because there are many advantages to electric baseboard heaters. Here are a few of them:
Electric baseboard heaters are economical, because you don't have to heat parts of the building where it is not needed

• Electric baseboard heaters require minimal maintenance

• Electric baseboard heaters are simple and convenient, controlled with a wall-mounted thermostat or by a thermostat on the unit itself

• Electric baseboard heaters are comparatively cheaper to install than other heating systems, because we don't need to install any pipes or duct work

• Electric baseboard heaters easily replace pre-existing heating systems or fit in efficiently with new construction

• Electric baseboard heaters heat up instantly, working so silently you're not even aware they are running

• Electric baseboard heaters are safe, non polluting with no risk of gas and oil leaks or fumes

• Electric baseboard heaters are adaptable to any wall space because they come in lengths ranging from two feet to eight feet

• Electric baseboard heaters are durable, lasting for many years and can be quickly and easily replaced

 
We have found in installing electric baseboard heaters that they are great for an entire house or apartment, but they are also excellent for finished basements, attics, bathrooms, porches, sunrooms, and offices.
We continue to collect testimonials from our many satisfied customers and will be sharing their experiences with you here.
Schedule an appointment today! Give us a call at (908) 312-3801 for assistance and learn more about electric baseboard heaters.