Electrical Repairs
Serving homes and businesses in Central New Jersey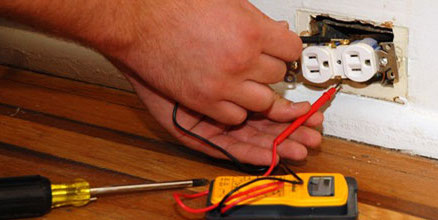 All homes, at some point, require electrical repairs. It's just a matter of when. The trouble is, most homeowners don't realize there's a problem until it's too late.
Our experienced electricians can help with any electrical repairs, and our company stands behind any job that we do with our lifetime warranty on labor.
Give us a call at 908-325-1777 or submit a contact form for help.
Do I Need Electrical Repairs?
Most folks don't notice electrical problems until they've already caused danger or vulnerability to individuals. 
Because electricity is invisible, it is very important to take every indication of a malfunctioning electrical system in your house seriously. A few examples of electrical problems are: 
* light(s) flickering,
* power interruption, in part or the whole home,
* breaker tripping, 
* the smell of burning wires,
* and sparking devices. 
Any of these could indicate a serious problem.
We encourage property owners to be aware of the reliability of their electrical system and hire a licensed professional to repair the issue.
We are currently collecting testimonials from our many satisfied customers. We will shortly share with you what their experience was in this area of the page.