Licensed electrical contractors in Westfield, NJ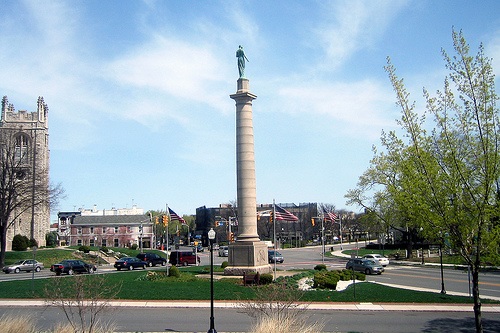 Electricians Serving Westfield and the Surrounding Communities
First Class Electric is proud of its' most valuable resource—professional electricians whose labor comes with a guaranteed satisfaction, providing outstanding service to many homes and businesses in Westfield, NJ.
Why are we the electricians of choice in this Union County town of more than 30,000 residents and about 400 commercial businesses?
We went to those who know us best— our customers— to find out why they turn to us for any of a number of electrical services. Topping the list was perhaps the most important words— quality and versatility. That is quality as in superior workmanship and versatility as in doing a lot of things well. That includes an impressive array of electrical services ranging from the installation, conversion, and repair of everything from electrical panels, breaker boxes and switches to lighting and electrical work related to HVAC systems.
Our Westfield Customers
Customers in Westfield, according to a recent survey, say they are appreciative of those extras for which First Class Electric is known, such as satisfaction guarantee on our labor and our responsiveness when customers call us with a problem or just need expert advice or a job estimate.
We enjoy working with our customers on new installations, upgrades, and repairs. Our emphasis is on safety and educating our customers about potential pitfalls and perils that may lurk within the electrical system of their homes, whether it may be wiring, appliances or fixtures. Electrical malfunctions may occur when a device or fixture has been improperly installed or is just plain old and outdated.
Our electricians know that your home is your domain and they enter as your guests. That is why we go the extra mile to make our visit, whatever it is for, a positive one, taking the time to tell our customers what they should know for effective operation and safety of any installations and repairs. We believe that friendliness and honesty, combined with professionalism, make us welcome visitors, no matter what your electrical needs.
What can we do for you?
Aside from new installations and repairs for your home and business, we can:
-install new circuits for your home;​
-install and repair electrical for air-conditioning, furnace, and water heaters;​
-make your home a safer one with surge protection;​
-run phone and internet cables;​
-install transfer switch or interlock kit for your portable generator or install a standby natural gas generator​
-install a TV ​
-improve your home's circulation with whole-house, ceiling and attic fans;​
-and just about every other thing you can think of electrically.
Here is some work we did in this area: